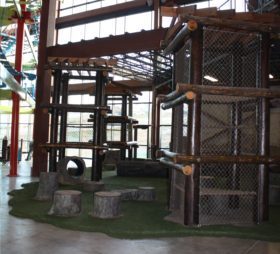 Are we having FUN yet? — They are in Branson, Missouri!
Posted: December 19, 2016
Fritz's Adventures  just opened up a new indoor park, just to make sure.
.
.
The climbing walls, zip lines, and tree houses reach up some 30′ in the air.
.
.
All are enough to make us want to play all day. There is something else going on as well.
.
.
In the wooden structures there are over 21,000 lbs of green house gases. Green house gases that were sequestered as the trees were growing. Now that they are part of the permanent structure, we can all breathe a little easier.
.
.
Good fun and Good, clean, air.
.
.
All in a day's work? ….…or.....PLAY!
.